Hello,
Our names are Daisy and Della and we are two of the Leo Languages marketing team, we have only recently joined the team and we can already see why this company is the best at what it does. We had the amazing opportunity to travel to Whitstable to meet some of the Home Group 6 teachers, host families and students this week, we were sent to get a better understanding of how the programme works and see the amazing location the English in a Castle classes are taught in. The owner of Leo Languages, Adam Wilton, came with us as he set up the programme 12 years ago and it's still running strong today!
Home Group 6 is a unique English language course for young learners, aged 14 to 16, combining all the advantages of a language homestay course with the benefits of a language school. Students stay with a host family in a lovely seaside town in Kent, the Garden of England, and share their English lessons with up to five other international students, of similar age and level, in the home of one of the five host families who is also the teacher. English lessons in the mornings are supplemented by a full leisure programme in the afternoons consisting of sporting activities and excursions.
Home Group 6 is a great way for young people from around the world to improve their English, make new friends, visit a beautiful part of England and have fun all at the same time.
First, we met three Home Group 6 host teachers, Sharon, Patsy and Rick, they all live in and around Whitstable.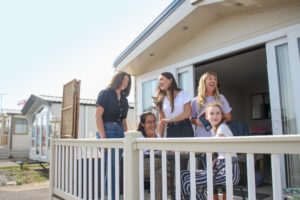 Sharon
Lives in Bluewater Seaview Park Swalecliffe – Caravan park which has a recreational centre, swimming pool and onsite activities – and the beach is nearby.
Teaching 4 students from different countries – Italy, France, Switzerland and Spain.
Sarah, the Italian student has been to English on 5 occasions and studied different programmes with other companies. The Home Group 6 programme was different to previous as she was able to stay with an English family and interact with people of different nationalities.
Mevina, the Swiss student had visited London previously, prior to studying English with us. It was the first UK visit for the other two.
Sharon, the teacher had been living in her caravan for 10 months after moving from Westgate. She regularly visits India in February for around a month at a time, and would like a student in India.
The 4 students were very friendly and eager to answer all our questions about their course experience. Their English was great and they described to us about their day in Canterbury, where they're from and what they are enjoying most.
Based in Whitstable in a cul de sac, Rick had 4 different students: 2 boys and 2 girls, 1 Russian, 1 Spanish, 1 French and 1 Italian.
Renetta was from Moscow in Russia and currently lives in Spain – she speaks Spanish too.
Quentin is from a nice city, located around 3 hours from Paris in France.
Maxim is from Barcelona in Spain and lives right in the centre. He has visited England before and studied English in Oxford on another course. He also plays guitar.
Simone was from a village near Florence in Italy.
When talking to them, we talked about what music they like and Rick suggested he and Maxim play us a duet!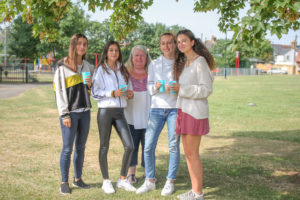 Patsy
She lives in a maisonette house in Whitstable, which overlooks the park and where she teaches her lessons.
Patsy had 4 students: 2 Spanish, 1 Italian and 1 French– all girls.
Martina and Nadia were from Spain, they came with the same agent although didn't know each other before and have become good friends.
Lise is from France, she had been to England previously with her family but this was her first time on her own.
Virginia was from Italy, she has never visited before but is really enjoying her stay and would come again.
They were a very happy bunch and eager to listen.
Patsy is also a group leader so she was taking her group and other Home Group 6 students to Faversham to visit the indoor and outdoor swimming pool in the afternoon.
Next, we took the scenic drive to Whitstable Castle to visit the English in a Castle groups to see them learning in the amazing Castle, a learning experience like no other.  English in a Castle is an unique course for students aged 12-15 (or 10+ for groups), it provides an experience of British life in an lovely seaside town and also to learn English in an exceptional environment.
They too have lessons in the morning followed by activities in the afternoon, these would usually be a trip to a local town such as Broadstairs, Margate, Faversham or Canterbury, to partake in activities such as river tours, swimming, bowling or visiting museums. They also get one full day excursion which is to London to see all the famous landmarks and visit the gigantic number of shops and attractions.
The students on the English in the Castle course were having their morning classes in different rooms in Whitstable castle. Whitstable Castle is located around a 15-minute walk from the main town and Harbour Street, a hub of restaurants, boutique shops and quaint cafes.  It's a beautiful and historic building set in the centre of stunning gardens, a bowls court and a nursery. The student's lessons took place until their morning break. After break, the students were taken along Harbour Street on a lesson to learn the local town and point out the types of restaurants they can see. They then had lunchtime in the sunshine back at the castle.
After lunch, both Home Group 6 and English in a Castle students took the train to Faversham with their group leaders. The two different programmes met in the afternoon to give all students a chance to meet new people from different countries, and use their new found English languages skills. They all had a historical tour of the town, where Patsy described all the history and what the town was famous for. We took a lovely stroll with the students though the town were they told us the amount of fun they were having and how much they enjoyed learning in this new way, whether this was in a home group or in the castle. They were then given free time before heading off to Faversham outdoor and indoor swimming pool. All the students were very curious and excited on the tour, and interacted with their teacher extremely well. It was an enjoyable afternoon and the students were very happy with all the activities!
We were told both groups had a very interesting and exciting time in Faversham and so far, there is very positive feedback from both Home Group 6 and English in a Castle.
Thanks for reading!
Daisy and Della