Jack has been as an activity leader at our language school for the past 5 years. He's from Margate and really enjoys working at the school. Today, we caught up with him to find out more about his activity leader experience, living in Margate and his hobbies.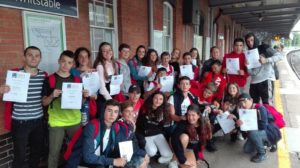 How long have you been an activity leader for and what's your favourite part?
I've worked at English in Margate for 5 years altogether and loved the experience so far. My favourite part of working at the school is meeting people from all different cultures, and talking with them. Italian and Spanish students tend to be the funniest I've met as they're always so chatty. By meeting loads of people, I've been able to learn more about the world and gained an insight into where to travel. It's also given me the opportunity to travel around England with the students and see places such as Cambridge and Oxford.
How did you get into activity leading? 
I originally heard about working for English in Margate through a friend called Dave who was working as a receptionist there at the time. Once I heard about the position I decided to go for it, as I wanted a role that was more sociable and pushed myself out of my comfort zone.
Where are you from?
I was born in Margate and have lived here pretty much my entire life apart from when I went to Southampton University to study Computer Gaming.
What did you do prior to bring an activity leader?
Before becoming an activity leader I worked in retail, firstly in Mcdonalds for a few years and then in Boots in Westwood Cross.
What's your favourite thing about Margate and the school?
Margate always has something going on with events wherever you look – and the coolest, artistic vibe to it. Places like Dreamland offer seasonal events and plenty of concerts throughout the summer. The Old Town is pretty to walk around and it's packed out with loads of good restaurants to eat. Margate also has lots of cool places to hang out from the steps, Habour Arm to the beach – and it's the perfect place to watch the sunset.
My favourite thing about the school is meeting new people and getting ideas on places to travel. I also really love seeing the students progress in their learning. I'll see them go through barely speaking English to being at an intermediate level in a few months and it's really rewarding.
What are your group of students like?
My group of students are between the age of 12-17 years old and a combination of boys and girls. They're a Spanish group and are really energetic, enthusiastic about learning and fun to be around.
Do you have any other jobs?
The job I do alongside being an activity leader is a freelance filmmaker where I make promotional video content for different companies across the local area. I've previously made video content for the Turner Contemporary and their Bookie event.
What does your student activity programme look like this week?
This week, my students have been to Faversham swimming pool as they really liked it the week before. We've visited Quex Park and looked around the Powell Museum which is full of stuffed animals. We're heading to London this weekend and doing a South Bank tour, looking around locations like Tower of London and London Bridge. Last week, I had the same group and we went to both Canterbury and London. We visited Buckingham Palace, Big Ben, Trafalgar Square, and Leicester Square.
What are your hobbies?
My hobbies include film making, video games, playing acoustic guitar and riding my bike around the coast. I like to keep busy in my spare time and do things that I enjoy.
What's working for the school taught you?
Over the past 5 years, working for the language school has helped me in many different ways. I've grown as a person, with my confidence and feel as if I've changed completely. It's helped open my mind to new experiences abroad and that there is more to life than my home town. I've come out of my comfort zone a lot more and learned a lot through working with kids and other teachers.