Irene Covaleda is a new activity leader at our language school who has been working with us for the past 2 weeks. Irene is from Teruel, Spain and has been an activity leader quite a few times in various locations. Today, we sat down and asked her a few questions about her experience as an activity leader, work history and time in Margate.
How did you get into activity leading?
When I was a young student at the age of 11 I met my friend Davie. He began his own business as a language school when I was 18 and asked me to be an activity leader in the summertime as he needed some help. We're close friends so I'll always be happy to help him out. I worked for a few summers at the school until I got a full-time job and didn't have the time to pursue it anymore. I've been an activity leader now around 6 times in various locations across the world.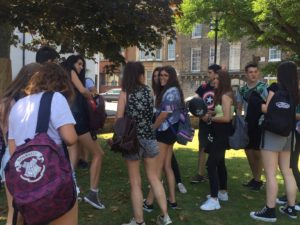 What's your main job?
I finished my Ph.D. two years ago and am a sculptor and teacher at Teruel university. My sculptor work is revolved around the human body and I used to also produce a lot of abstract work. Sculpting is my main passion.
Is this your first time in Margate? And how are you finding it?
It is my first time in Margate and I'm really enjoying my experience. I like the beach and the good weather we're currently having. This past week, I've been lucky that the weather is sunny as I've heard that's usually not the case. Margate has been my favourite group leader experience to date. The school is small and everyone who works there is friendly and close. I feel I can make friends easily and go to the staff with my problems. The students seem very relaxed and at home in this school, and it's a really nice place to learn.
What are your student group like?
My student group are Spanish and all from the same city as me, Teruel. The group has 15 people including myself, and they are around the age of 15-7 years old. I like how close the students have become even though they didn't know each other prior to the trip. The students have a great bond and are very funny.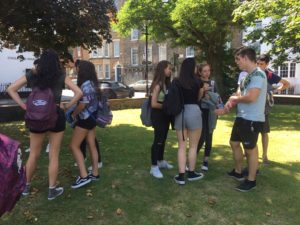 How are you finding your host family?
My host mother is Jean and her home is in Margate, near the station. I'm very lucky to have a host mother like her who is very welcoming. I feel at home there and always have good chats every day.
Tell us about your family
My family all live in Teruel like myself where I was born. My brother is happily married with a family and is a sports teacher for young children. My sister is a lawyer, my father is retired whilst my mum still works.
What's your favourite thing about England?
England is a really interesting country to explore. My favourite thing about it is the international meaning the country has – and that I'm able to meet people of all different nationalities, and make new friends.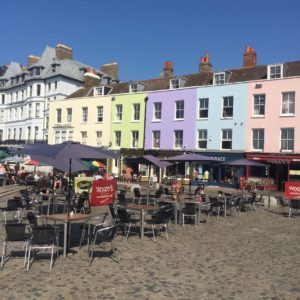 What do you like best about Margate?
Margate is a lovely little town set on the seafront and I've enjoyed living here for the past two weeks. My favourite thing is my host mother as I'm incredibly grateful to have such a friendly lady. I also love how small the town is and how it's not too busy.
For more information about studying in our English language school, check out our website.