Margate, the budding seaside town in the heart of Thanet has plenty in store for young students, eager to learn English. From the bustling Dreamland theme park, quaint coffee shops, vintage boutiques to the best fish and chips you'll ever taste – right on the edge of the beach. The town is home to the famous Turner Contemporary, has two busy theatres and a lovely community feel about it. Margate is in a prime location for day trips, whether that's to visit the Kent countryside, its castles, or for getting a direct train to London – the town has convenient transport links for everyone. You'll feel right at home in the town of Margate – and will never be short of things to do.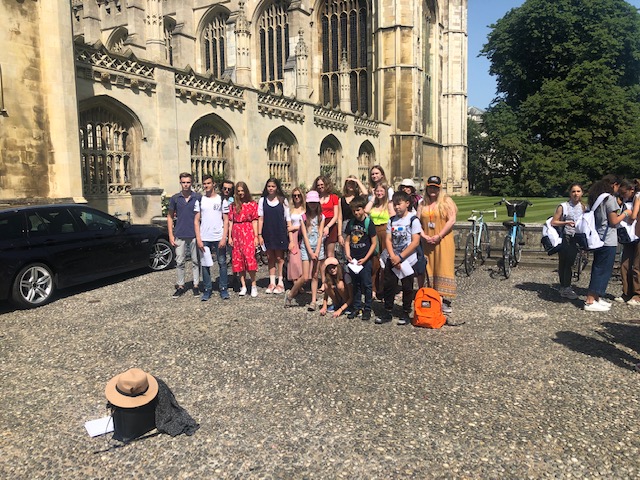 At our language school, we offer the mini-stay option, where 12-17-year-olds can spend 6 nights learning English (through 20 hours of tuition), experience an exciting social programme, days out and excursions to nearby attractions.
Our mini-stay programme is an opportunity to meet new friends from all around the world, enjoy everything Margate and its surrounding towns has in store, and learn the universal language of English. If you're eager to join this course, here's a recent experience of a mini-stay group from Russia.
Classes
In this mini-stay group, the students were split into three different groups; the younger ones (age 10-11), teens (14-15) and young adults (16+). During the first week of their stay, the youngest group of four were in a class with seven of our Morrocan students of the same age. Our teacher Jack taught the class and covered a range of cultural lessons, including lessons about English money, and famous sites in London – to prepare for their excursion. This week, our teacher Hannah got them working on a beach project, examining the different vocabulary relating to our English coastlines – and got to experience the surrounding beaches in Margate first hand.
Our teen group of seven were taught by Andrew and covered grammatical exercises such as a  degree of conversation and also 'student to student' discussions on the future, education, food, family and more. The discussion also opened up about 'What if?' questions, a general knowledge quiz and vocabulary exercise. This week, they are learning about tourism in Margate and went into the town to interview local residents about the effects of tourism, and what they thought the best local attraction was.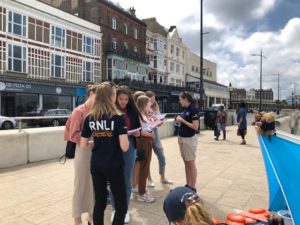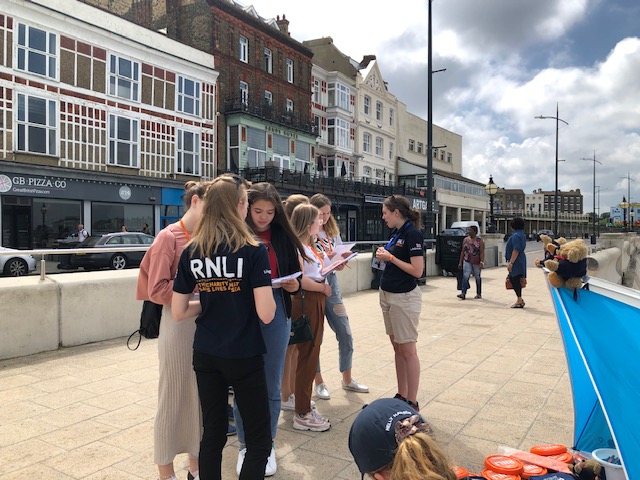 Our young adults have joined our international group classes where they have worked with adult students (16+) from a wide variety of nationalities. Currently, we have Japanese, Korean, Saudi, Moroccan and French students to name a few. The group has focused on using idiomatic expressions, improving intonation, pronunciation and their speaking skills.
Activities
Last week, our teacher Jack joined the group for their activities where they had a walking tour of both Margate and Canterbury. On Wednesday, the group played mini golf and visited the Turner Contemporary (Margate's famous art gallery). The Thursday, the group visited Quex Park and learned about Sir Powell-Cotton and his fascination with documenting wildlife in the early 20th Century.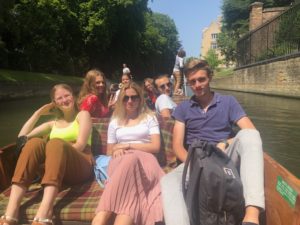 The weekend is where our daily group excursions usually occur, and this mini-stay group visited Cambridge. It was a beautiful day with the sun shining and the group enjoyed a walking tour, and a chauffeured punt along the River Cam. On Sunday, the group went to London to visit St. Paul's Cathedral and the Tower of London. This week, they are set to visit Ramsgate and Dover, to see Ramsgate's Royal Harbour and the famous Dover Castle.

Host families
Staying with a host family is one of the most exciting parts of our mini-stay course. You get the opportunity to meet new people and learn about where you're living, the best attractions and speak the language at home. For this stay, one of the students, Natalia has reported that her host mother is very generous with her and the two other girls staying there. In the house, they play lots of games together and she always talks to them about her day. The students all seem very happy and have enjoyed the company of their host family.