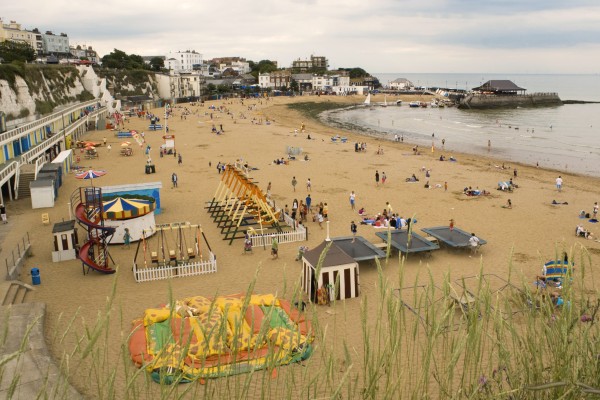 History of Broadstairs:
Broadstairs, originally a fishing village, dates back to around 1080, and was originally known as 'Bradstow' (meaning broad place, referring to the wide bay). Around the 1300s, wide steps were cut into the cliffs to a shrine which overlooked the bay (called the Shrine of Our Lady, Star of the Sea – a major landmark for sailors at that time), and the village eventually became known as 'brod-stayrs' which became Broadstairs.
Around the 1400s, Broadstairs became a ship-building town and this continued until the early 1800s. You can see the large stone archway 'The York Gate' across Harbour Street – this was built in 1540 and originally had heavy wooden doors that could be closed, giving a defence against invasion from the sea.
It was known to be a smugglers town in the 1700s, and you can still visit the Wishing Well at The Old Curiosity Shop, 9 Harbour Street which is where around 250 years ago a lot of contraband (tea, spirits and tobacco) was hidden from the Customs and Coastguard officers. There are many old and forgotten smugglers tunnels and caves underneath this area. Smuggling stopped around 1840.
In 1815 Broadstairs is thought to be the first town in England to hear of British victory at Waterloo.
By 1824 Broadstairs had become a Victorian seaside resort with fast transport links to London via steamboats and later, the railway, around 1860. Broadstairs continued to increase in popularity until the present day.
Shopping around Broadstairs:
Broadstairs itself has many quaint and unique shops, including antiques shops, a traditional English sweet shop, gift and souvenir shops, traditional greengrocers and much more.
Out of town slightly, the Westwood Cross Shopping Centre has a large range of shops including Debenhams, H&M, TK Maxx, River Island, Thorntons, Monsoon, Waterstones and more. These include for example designer clothes, shoes, bags and accessories, luxury chocolates, homewares, fragrances and books. The Westwood Cross development also has a 10 Screen Cinema, Casino, Bingo Club, Fitness Centre and several restaurants. There are also large supermarkets locally (Tesco/Sainsburys/Asda) for anything else you might need.
Beaches & Local Area around Broadstairs:
There are seven bays with golden sand around Broadstairs: Viking Bay, Louisa Bay, Kingsgate Bay, Dumpton Gap, Botany Bay, Stone Bay and Joss Bay. Kingsgate Bay is overlooked by the scenic Kingsgate Castle, which has been converted into several private residences.
Some things to do in Broadstairs:
Morelli's Ice-creams
Fresh Seafood on the Pier
Palace Cinema
Dickens House / Museum
The Old Smuggling Wishing Well
Pierremont Hall
Crampton Tower Museum
Broadstairs Railway Station
For more information, click here www.visitthanet.co.uk