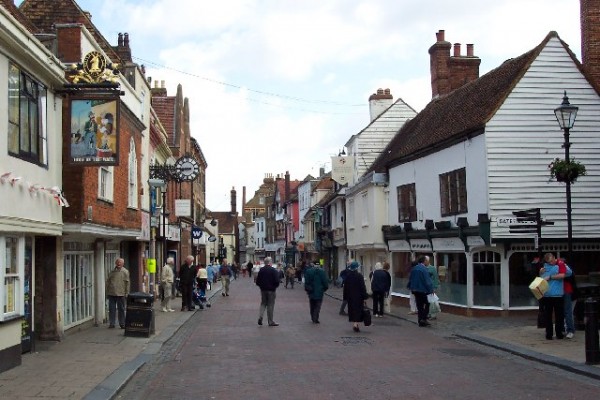 History of Faversham
Faversham originated around an ancient sea port on Faversham Creek in medieval times, and even became the capital of England instead of London for a short period around the 12th Century! There are many historical buildings still surviving in the town today, a lovely example is the Elizabethan/Regency Guildhall in the middle of the marketplace. Many buildings look just as they did around 400 years ago.
In the 16th century, the first English gunpowder plant was established in Faversham (the height of technology at that time!) and gunpowder from this mill was used to fight the battles of Trafalgar and Waterloo.
Faversham has a long history of hop-growing, an essential ingredient of beer, and was home to three breweries although only Shepherd Neame survives today, founded in 1698 and claimed to be the oldest brewery in Britain.
A shipyard was established in Faversham by the creek in 1916, and Faversham became known with a reputation for shipbuilding. Over 1200 ships were built and launched from Faversham between 1916 and 1969.
In November 2011 it was discovered that Faversham owns an original version of the Magna Carta, a famous English 13th Century document potentially worth around £20 Million.
Local Area around Faversham
Brogdale, close to Faversham is home of the National fruit Collection – one of the largest fruit collections in the world which is part of an international programme to protect plant genetic resources for the future. Brogdale Farm is about one mile outside Faversham and costs £9 to visit. There are guided tours available in the summertime.
Shopping around Faversham
There is a great bakery in East Street, just off Market Street with reasonably priced filled rolls, cakes and pastries for lunch, but you'll have to be quick – it tends to sell out by about 3pm at the latest! There are some baguette and sandwich shops and cafes near Market Place, some you can sit outside on a sunny day, others to take away the food. There is also a Fish and Chip shop in Preston Street and some great clothing and handbag boutique shops in Faversham, mostly around the Market Place area.
Some things to do in Faversham:
Market Place
Squires Antiques
Shepherd Neame Brewery
Fleur de Lis Heritage Centre / Museum
Royal Cinema
Chart Gunpowder Mills
The Park
Faversham Railway Station
For more information, click here www.faversham.org/visit_faversham.aspx