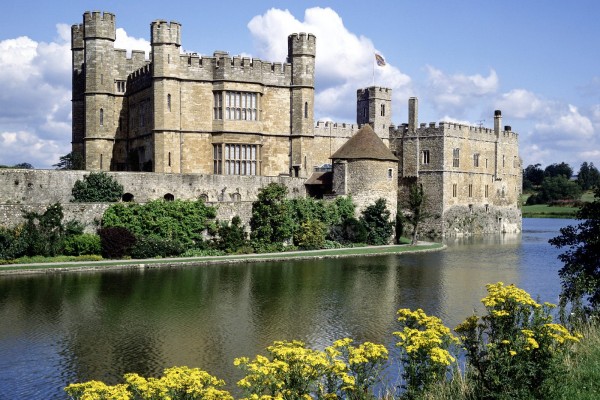 History of Leeds Castle
Leeds Castle was originally built in 1119 as a Norman stronghold, although much of what you can see today is 19th Century. There is a rich Royal history associated with the castle and it has been a favourite of many of England's Queens – starting in 1278, where the castle was owned by King Edward I and was one of his favourite residences. In 1321 it was owned briefly by the 1st Baron Badlesmere, then captured by King Edward II, and after he died, his widow lived on in the castle. King Richard II's first wife (Anne of Bohemia) stayed at the castle in 1381. King Henry VIII renovated the castle in 1519 for Catherine of Aragon, his first wife.
During the English Civil War the castle escaped destruction and was used as an arsenal and a prison. You can still see doublets and suits of armour from this time on display in the castle. In 1823 it was remodelled again, and in 1926 it passed to Lady Baillie, a wealthy Anglo-American heiress, when it was used to entertain high society parties for the rich and famous down from London. During World War II, Leeds Castle was used as a hospital for injured soldiers. The castle was opened to the public in 1976 and has over half a million visitors each year.
Leeds Castle Ghosts
Ghost Sightings in Leeds Castle are often of a black curly-haired retriever dog – the 'Black Dog of Leeds' – which is often seen appearing and disappearing within moments, often into a wall or through a closed door. A gruesome discovery was also made a hundred years ago of a man's skeleton, who had been imprisoned within the castle walls.
Some things to do around Leeds Castle:
Leeds Castle has a maze and grotto to lose yourself in, and daily falconry displays. There is a museum of dog collars, gift shop, café, and 500 acres of landscaped parkland to walk in. Look for the famous Black Swans – the symbol of Leeds Castle – imported by Lady Baillie from Australia.
Local Area around Leeds Castle:
Leeds Castle is close to Maidstone, the county town of Kent, and Ashford so you can visit either with a short train ride. Maidstone offers trips on the River Medway, Heritage Museums of Kent Life, Bars, Nightclubs, Restaurants, Cinema Multiplex and more. Ashford offers Godinton House stately home and gardens, Bowling, Cinema, Restaurants and Designer Outlet Shopping Centre.
Shopping around Leeds Castle:
Ashford Designer Outlet has over 90 shops offering up to 60% off designer bargains from Gap to Ralph Lauren, Kurt Geiger to Adidas. There are shops selling designer fashion, high street clothes, shoes, handbags, house accessories, luggage, sunglasses, jewellery, perfumes and much more.
For more information, click here www.leeds-castle.com