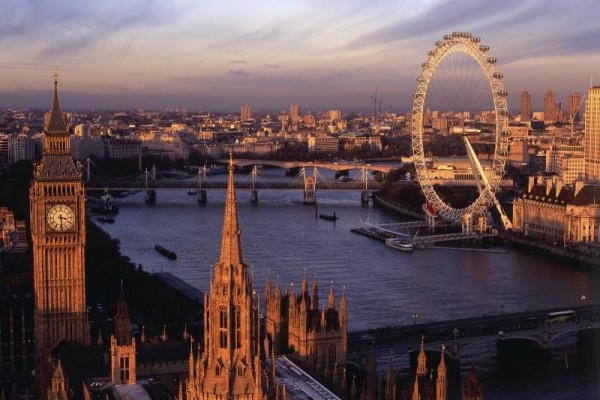 History of London
During prehistoric times, London was probably a rural area with scattered settlements and only became a single important town during Roman times around AD 50. Early Roman London was only around the size of Hyde Park!
Around AD 60 London was destroyed by the British Iceni Queen Boudicca, who fought the Romans. The city was rebuilt shortly afterwards and was known at its height around 200 AD as 'Londinium' with Roman bath houses, amphitheatre, temples and large fort.
Around AD 300, Londinium was raided several times by Saxon pirates and city walls were built – six city gates still remain. In AD 410 the Roman occupation of Britain came to an end and London was abandoned.
However, just after this time the Anglo-Saxons moved in around the Trafalgar Square area. In AD 604, the first St Pauls Cathedral was built (later rebuilt by Christopher Wren). Danes invaded London in the late 9th Century until it was captured back again by King Alfred the Great. London stayed in Saxon hands until the Norman invasion in 1066, where William the Conqueror invaded London and was crowned England's King in Westminster Abbey.
Many of London's parks (Regents Park, Hyde Park) were favourite areas to exercise horses or drive around in Victorian times, and you can still book to go horse-riding in Hyde Park today.
Things to do in the Kensington area:
Kensington Palace
Kensington Gardens
Serpentine Art Gallery
Victoria and Albert (V&A) Museum
Natural History Museum
Science Museum
Royal Albert Hall
Kensington Church Street (Many antique shops along this street)
Harrods (shopping in one of the most famous places!)
Harvey Nichols
Hyde Park
Hyde Park Stables
Things to do in the Covent Garden area:
East Colonnade, Jubilee & Apple Markets
Shops in Covent Garden
Royal Opera House
Theatre Royal Drury Lane
London Transport Museum
Things to do in the Leicester Square area:
National Portrait Gallery
Tate Modern Art Gallery
Cinemas around Leicester Square
Theatres around Leicester Square
Trafalgar Square
Oxford Street (good for shopping)
Regent Street (good for shopping)
Things to do in the Westminster area:
Buckingham Palace
Houses of Parliament
Big Ben
Westminster Abbey
10 Downing Street
Trafalgar Square
Horse Guards Parade
London Eye
London Sea Life Aquarium
Thames River Boat Trips
Things to do in the Camden Town area:
Camden Market
Camden Lock Market
Stables Market
London Zoo
Regents Canal
Regents Park
For more information, click here www.visitlondon.com