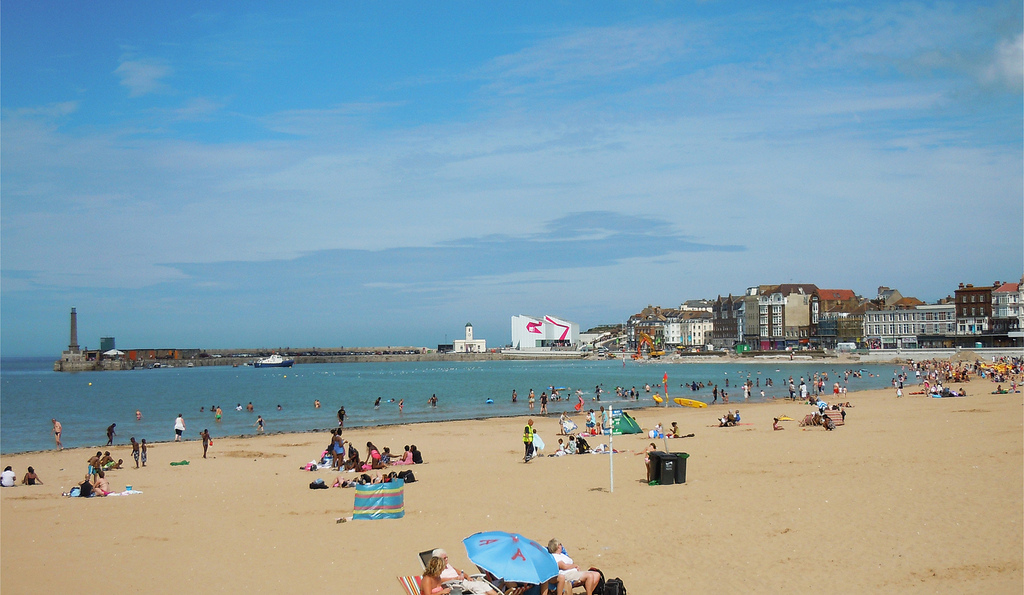 History of Margate:
Margate was originally a small fishing village, known as Meregate, changed to Margate in 1299 and has been a leading seaside resort for at least 250 years, known for the fine golden sands and its Maritime tradition. One of the oldest churches, a Norman church can be found not far from the school, at the top of the High Street – St John's Church, which was built around 1050. In 1588, the Spanish Armada intended to land in Margate to conquer Britain because it was close to London – fortunately they did not reach Margate!
Around 1816 steamboats from London would carry passengers from London for their day-trip by the seaside, until around 1846 when the railway became popular. Steamboats continued until around 1967. Margate used to have a long wooden pier, from 1856 until 1978, when a fierce storm finally broke it apart. You can see what the pier would have looked like in a picture at the Turner Contemporary Art Gallery. The Harbour Arm (the pier currently standing) was built in 1810.
Margate Dreamland – a famous amusement park – was first established in 1880, with 'sea on land' rolling machines, circus and zoo animals on show to the Victorian Public and in 1893 a large skating rink was built. Dreamland was re-launched in the 1920s and today is still home to the oldest rollercoaster in the UK. This is currently under re-development and may re-open in the future as a Retro Heritage Amusement Park featuring classic rides from all over the UK.
Margate was the first UK seaside resort to offer donkey rides, in 1890, and deck chairs, in 1898. In 1935, the Art Deco dreamland Cinema complex opened (closed 2007). During the World Wars, Margate suffered some bomb damage, for example Droit House was demolished and later rebuilt and several of Margate's Art Deco buildings suffered bomb damage and were demolished also.
Shopping around Margate:
Margate has some boutique shops around the old town area, with vintage clothing and accessories, great value clothing at Primark and various gift shops.
Out of town slightly, the Westwood Cross Shopping Centre has a large range of shops including Debenhams, H&M, TK Maxx, River Island, Thorntons, Monsoon, Waterstones and more. These include for example designer clothes, shoes, bags and accessories, luxury chocolates, homewares, fragrances and books. The Westwood Cross development also has a 10 Screen Cinema, Casino, Bingo Club, Fitness Centre and several restaurants. There are also large supermarkets locally (Tesco/Sainsburys/Asda) for anything else you might need.
Beaches & Local Area around Margate:
Margate's golden beaches extend either side of the harbour all along to Minnis Bay and back along and round the Thanet coast.
Some things to do in Margate:
Theatre Royal
Shell Grotto
Tudor House
The Ambrette Restaurant
Turner Contemporary Art Gallery
Droit House – Tourist Information, this was built in 1812, and originally a Customs building in 1828. It was destroyed by German bombing in World War II but rebuilt in 1947. A droit was a fee for using the harbour in the 1700s.
Clock Tower
Amusement Arcades
Margate Railway Station
Mini Golf on the seafront
For more information, click here www.visitthanet.co.uk