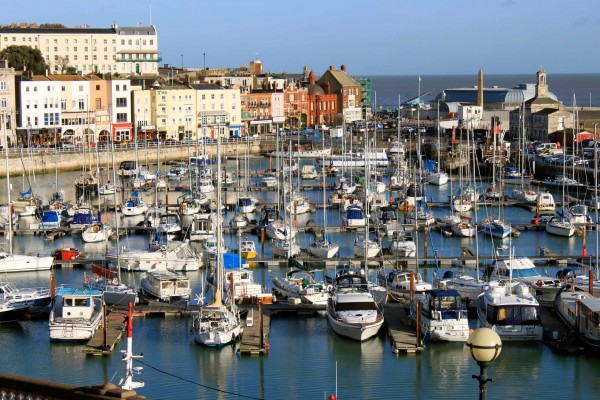 History of Ramsgate:
Ramsgate began as a fishing/farming hamlet in medieval times (at least 600AD) called 'Ramisgate' or 'Ramesgate'. The Royal Harbour started construction in 1749 and was completed around 1850. It is the only Royal Harbour in the UK (designated as Royal by King George IV) and has been important throughout history for the Napoleonic Wars and the Dunkirk evacuation in 1940 for World War II, for example. One of the ships that took part in the Dunkirk evacuation is still in the harbour – 'Sundowner'.
In the 1820s, Princess Victoria (later to become Queen) stayed in Ramsgate and it became a fashionable seaside resort. Other famous people to have stayed in Ramsgate include Jane Austen (writer), Vincent Van Gogh, George du Maurier and James Tissot (artists).
You can visit a lovely Regency Italianate greenhouse (early 1800s) in the King George VI Memorial Park.
The airport at Manston, just out of Ramsgate was also important during World War II and there are two museums there with historical aircraft which are worth visiting.
Ramsgate has a ferry port and provides cross channel transport to Oostende, Belgium.
Shopping around Ramsgate:
Ramsgate has many individual boutique shops from homewares, clothes and jewellery to florists, bakers and butchers.
Out of town slightly, the Westwood Cross Shopping Centre has a large range of shops including Debenhams, H&M, TK Maxx, River Island, Thorntons, Monsoon, Waterstones and more. These include for example designer clothes, shoes, bags and accessories, luxury chocolates, homewares, fragrances and books. The Westwood Cross development also has a 10 Screen Cinema, Casino, Bingo Club, Fitness Centre and several restaurants. There are also large supermarkets locally (Tesco/Sainsburys/Asda) for anything else you might need.
Beaches & Local Area around Ramsgate:
Ramsgate golden beaches extend either side of the harbour/port with the East Cliff and the West Cliff.
Some things to do in Ramsgate:
Pugin Town Trail – a fascinating town architectural walking trail with 29 stops. Much of Ramsgate is Regency and Victorian architecture so there is plenty to see.
Ramsgate Harbour
Ramsgate Sports Centre
Ramsgate Swimming Centre
Pinball Parlour
King George VI Memorial Park / Greenhouse
Granville Cinema
Ramsgate Railway Station
For more information, click here www.visitthanet.co.uk