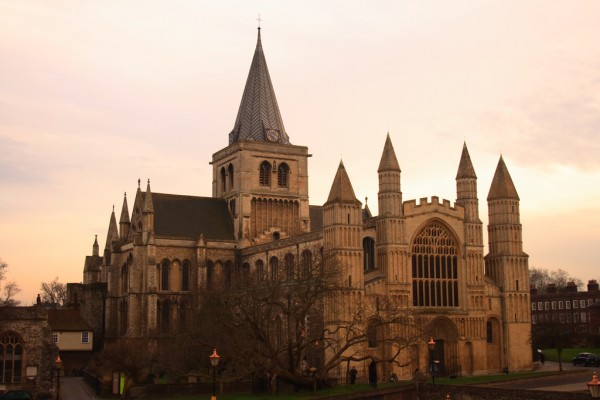 History of Rochester:
Rochester is located by the River Medway, and has been around since Neolithic times. Permanent Roman occupation began in AD 43, with the Battle of the Medway, when the Romans rebuilt the Celtic trackway into the Roman Watling Street, which is now the A2. It was a popular area to live, and Roman villas covered the local countryside, from Rochester to Maidstone. It was then called 'Durobrivae' which means 'stronghold by the bridge'.
When the Romans left, Rochester became a market town with a port, noted in the 7th Century. Around this time, Rochester's cathedral was built, although it was destroyed shortly after and later rebuilt around 1080. Rochester was under siege and ransacked by Danes in AD 842, but eventually rescued by King Alfred of England.
When the Normans invaded England in 1066, they came to Rochester and built the first castle, and the cathedral rebuild started. The castle has seen attack from King John during a civil war, and was under siege around 1215, but was later restored when a replacement corner tower was rebuilt by King Henry III. The cathedral was completed around 1470, demonstrating all styles of Romanesque and Gothic architecture due to the time taken to rebuild.
King Henry VIII met his future wife Anne of Cleves at Rochester (although said he was 'greatly disappointed' with her!). The bridge across the river has been destroyed and rebuilt many times during periods of civil war and unrest!
During the Napoleonic Wars, the naval dockyard nearby at Chatham was developed and around this time Charles Dickens lived at the town. Descriptions of Rochester appear frequently in his works such as Pickwick Papers, Great Expectations, and as a fictional town in The Mystery of Edwin Drood. If you walk down Rochester High Street, many buildings have not changed much since Charles Dickens' day. The Rochester area is also mentioned in the famous James Bond book 'Goldfinger' written by Ian Fleming, in which Bond drives along the A2 through the Medway towns from Strood to Chatham.
In 1892 Rochester Railway Station opened for access to London by train. After many years of shipbuilding, Chatham Dockyard declined, until 1984, when it later re-opened as a Historic Dockyard tourist attraction. Rochester is currently a town, although was previously a city, but due to an administrative accident has lost city status at present.
Some things to do in Rochester:
Rochester Cathedral
Rochester Castle
Guildhall Museum
Restoration House and Garden – This historic house was written about by Charles Dickens as 'Satis House' in 'Great Expectations'
Walking Tours of Rochester – Free of charge, tours are at 2:15pm from the Visitor Information Centre
Rochester Ghost Walk Tours – Find out about Rochester's ghostly history! Only available on the last Sunday of each month at 7:30pm
Rochester Railway Station
Things to do and see around the Rochester area:
Chatham Historic Dockyard – Full of naval history and museum artefacts. You can also ride on a Paddle Steamer, the 'Kingswear Castle' from here
Dickens World (Chatham) – a museum and interactive experience dedicated to Charles Dickens and the 19th Century world
Royal Engineers Museum (Gillingham)
Upnor Castle (Upnor) – Built in 1559 for Queen Elizabeth I on the banks of the River Medway to defend ships at Chatham Dockyard
Gillingham Ice Bowl (Ice-skating rink)
Chatham Ski and Snowboard Centre – a dry ski slope great for learning to ski or for practice
Buckmore Park Go Karting (Chatham) – a famous international circuit where Lewis Hamilton and Jensen Button both raced! (Formula 1 drivers)
Diggerland (Strood) – an adventure theme park dedicated to digger trucks

Riverside and Capstone Country Parks
For more information, click here www.visitkent.co.uk