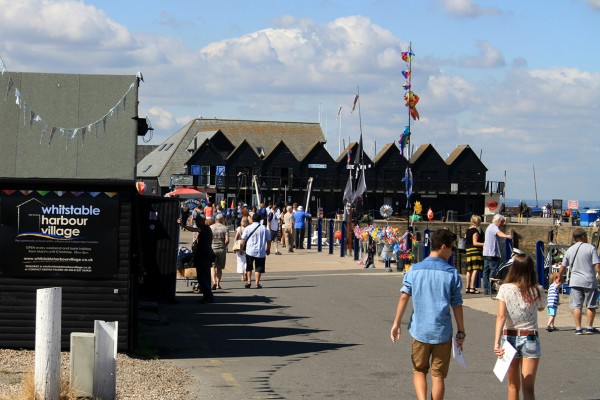 History of Whitstable:
Whitstable is most famous for its maritime heritage and oysters, which have been collected here since Roman times. Whitstable itself dates back to before the Domesday Book, and was recorded in 1086 as 'Witenestaple' (meaning 'the meeting place of the white post' – a local landmark), and was originally a Saxon settlement. By 1226, the name had evolved into Whitstaple. Saltworks were opened around the Seasalter Manor area around the 14th Century and the sea wall defences were first built. A Royal Patent was granted in 1574 to the manor owner for the fishing of the area's oyster beds. By 1610, Whitstaple had eventually become Whitstable.
Around the mid 18th Century, increased goods and passengers began to travel between London and Whitstable and a toll road was built to Canterbury. Around this time Whitstable became known as a seaside resort and the first advertisements for bathing machines appeared around 1768. There was also smuggling taking place at this time and many of the alleyways around the town may have been used by smugglers.
The world's first passenger railway opened in 1830 between Canterbury and Whitstable using an 'Invicta' steam engine from Robert Stevenson, which can still be seen in the Canterbury Heritage Museum.
The harbour gradually became less used after World War II, although oyster production is still very popular today, and local oysters can be tasted at the Oyster Bar in the town.
Shopping around Whitstable:
Whitstable has some individual boutique shops around the high street, with art works, handmade jewellery, accessories, antiques, maritime gifts and various local craft shops.
Beaches & Local Area around Whitstable:
Whitstable beach is a pebble beach with traditional groynes (wooden sea defences) – much as it may have looked many years ago. The beach extends all the way around the coast in this area and is a great place to walk.
Some things to do in Whitstable:
Whitstable Castle
Whitstable Harbour
Smuggling Alleys (Squeeze Gut Alley, Beach Alley, etc.) These were used for smuggling as an easy, quick route to the sea.
'The Favourite' Oyster Yawl Boat
Old Neptune Pub
Whitstable shopping streets – There are some lovely individual shops on these streets
Whitstable Playhouse Theatre
Swimming Pool
Bowling Centre
Whitstable train station
For more information, click here www.canterbury.co.uk